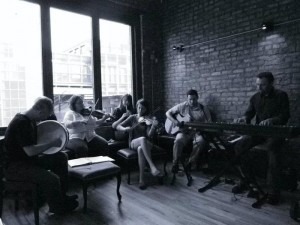 Baal Tinne, a Chicago band explores the boundaries of Irish traditional music with contemporary influences while remaining true to the traditional sound. Their influences include the Bothy Band and Planxty. They perform often in the Chicago area and have a devoted following of lovers of traditional Irish music.
Baal Tinne is Noel Rice, Kevin Rice, Cathleen Rice-Halliburton, Matt Sundstrom, Richard Roche, Kiera Byrne and Catriona Byrne.
Baal Tinne performs on Sunday, July 9 at 1pm.
https://www.facebook.com/BaalTinne/?fref=ts