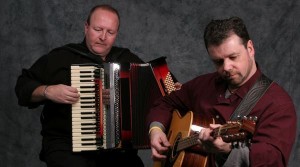 Irish music's accordion virtuoso Jimmy Keane and the remarkable bouzar player and vocalist Pat Broaders comprise bohola, who have performed together for the last 18 years.
bohola play a driving, muscular, and yet very emotive style of Irish music with deep roots in the 'pure drop' tradition, infused with the raw and gritty urbanized musical vernacular of the Irish and Irish-American experience.
In concert, bohola plays tunes that range from hundred-year-old harp pieces, reels, jigs, slides, polkas and barn dances to newly composed pieces in the traditional idiom. And the songs run the gamut from the ancient melodies of Ireland, to songs brought to North America by immigrants, to newly composed songs from here and abroad. All played with a freshness and subtlety of approach that is unique in Irish music today.
bohola perfoms at Irish Fest on Sunday, July 9 at 4:30pm.
https://jimmykeane.com/bohola-jimmy-keane-pat-broaders