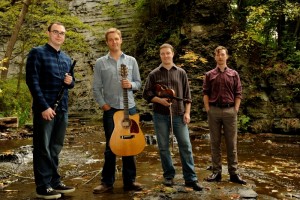 Based in Chicago, Bua has established itself individually and as a group in the eyes and ears of the traditional community. The band has Bua performed and taught at many popular Irish music festivals in North America including the Milwaukee Irish Festival, Dublin Irish Festival, Goderich Celtic Roots Festival, Bethlehem Celtic Classic and Catskills Irish Arts Week.
Bua has been honored representatives of the Irish tradition at some of the top folk festivals in the US including the Old Songs Festival, Great Lakes Folk Festival, Lowell Folk Festival, City Folk Festival, University of Chicago Folk Festival and the National Folk Festival. This exposure and ensuing popularity afforded them the title 'Top Traditional Group' of 2009, a distinction awarded them by the Irish Music Association.
Bua is Brian Ó hAirt, Brian Miller, Sean Gavin and Devin Shepherd. The band performs at Irish Fest on Saturday, July 8.
https://www.facebook.com/buairishmusic/