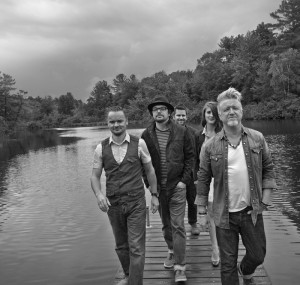 After almost two decades and more than 3,000 live shows, Gaelic Storm, the chart-topping, multi-national Celtic band, is looking sharper than ever with their latest release, Matching Sweaters. The new album mixes traditional Irish music with modern influences, creating a sound that's as wide-ranging as the band's own audience.
In the mid-1990s Gaelic Storm kicked off its career as a pub band in Santa Monica, California. By the end of the decade, the musicians had appeared in the blockbuster film Titanic and laid the groundwork for a career that would eventually find them topping the Billboard World Chart five times, making appearances at mainstream music festivals and regularly headlining the largest Irish Festivals across the country. With the band's 20th anniversary on the horizon, they're putting even more emphasis on those newer directions.
Gaelic Storm is Patrick Murphy, Steve Twigger, Ryan Lacey, Pete Purvis and Kiana Weber.  The band performs at Irish Fest on Sunday, July 9.