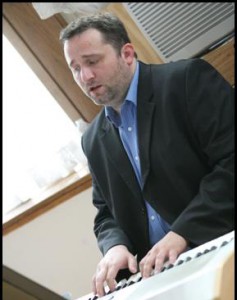 Mark Piekarz is a lyric tenor and pianist who specializes in cultural programming, liturgical and classical choral music. He performs music in more than 10 languages and often sings in the Irish tradition.
Piekarz has performed ballads in English and Irish on vocals and piano at the Center's iBAM! Irish Books, Arts and Music Celebration, the Irish American Hall of Fame, the Bloomsday Celebration. He has also performed at the Steppenwolf Theatre's Look Out Series. He is currently a Tenor with Wicker Park Choral Singers. Piekarz performs Irish tunes, ballads and modern Irish classics by Van Morrison and Elvis Costello at the Fest.
Piekarz performs at Irish Fest at on the second floor Arts Wing on Friday, July 8 at 5:30pm and Sunday, July 9 at 3pm.