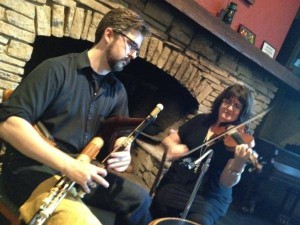 Patrick and Karen Cannady on uilleann pipes and fiddle are a Chicago-based couple and lifelong musicians who perform regularly in the Chicago and at festivals across the US.
Patrick is rapidly approaching 20 years of piping with many years' prior experience on the saxophone and tin whistle. Karen has played violin since childhood and became interested in Irish fiddling in the mid-1990s. Together, they undertook to learn the Irish music they found here in Chicago, absorbing traditional melodies from musicians who hailed from Clare, Galway, Mayo, and Sligo. Their music is spare, expressive, and rhythmic, with harmonies supplied by the interplay of drones, regulators, and double stops.
Patrick and Karen Cannady and Friends perform on Saturday, July 8 at Noon in the Fifth Province.
www.piobagusfidil.com
www.facebook.com/piobagusfidil/?fref=ts
twitter.com/piobagusfidil