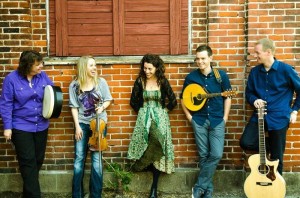 Quickly gaining recognition as one of Irish music's "super-groups," RUNA has been en- chanting audiences by pushing the boundaries of Irish folk music into the Americana and roots music formats since 2008. Interweaving the haunting melodies and exuberant tunes of Ireland and Scotland with the lush harmonies and intoxicating rhythms of jazz, bluegrass, flamenco and blues, they offer a thrilling and redefining take on traditional music.
The group has been honored internationally, winning Top Group and Top Traditional Group in the Irish Music Awards and four Independent Music Awards including Best Live Album, Best World/Traditional Song and Best Bluegrass Song.
Runa is Shannon Lambert-Ryan, Fionán de Barra, Cheryl Prashker, Dave and Maggie Estes. The band performs at Irish Fest on Saturday, July 9.