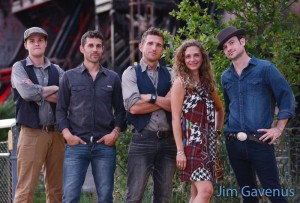 Washington DC-based Scythian began more than 12 years ago as a bunch of college friends playing Celtic music in the streets and has grown to be a headliner on the US Celtic Festival circuit as well as a name in the Bluegrass/Americana Festival Ccrcuit. They have found success as an independent band and have played more than 1,300 shows all over the United States, Europe, Canada and Australia.
Founded by brothers Alexander and Danylo Fedoryka who are first-generation sons of Ukrainian immigrants, Scythian has been a search and love for the "old time, good time music" of many cultures. THE calling card of Scythian is their ability to engage their audience no matter the venue or circumstance. Truly every Scythian shows ends with people dancing, smiling and covered with sweat.
Scythian is Alexander Fedoryka, Danylo Fedoryka, Larissa Fedoryka, Nolan Ladewski and Fritz McGirr. The band performs at Irish Fest on Saturday, July 8.
https://www.scythian.bandzoogle.com/
https://www.facebook.com/scythian