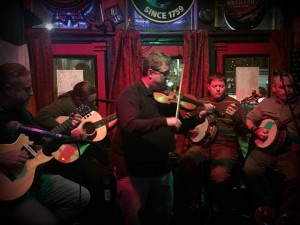 Sean Cleland Band's music celebrates the American Irish shantytown that clung to a muddy island in the Chicago River in the late 19th and early 20th centuries. The band plays the irrepressible, stubbornly upbeat music that emerged onto that island when the tunes and songs first baptized in the blessed wells of Ireland were dragged through the factory-fouled waters of the Chicago River.
Playing with tenacity and unruliness, Sean Cleland Band taps into the dance tunes and songs whose spirit and beauty persisted in their new home: soot-stained, early urban America.
Sean Cleland Band members are Seán Cleland, Jackie Moran, born, Brendan Bulger, Jesse and Ray Quinn. The band performs at Irish Fest on Saturday, July 8.