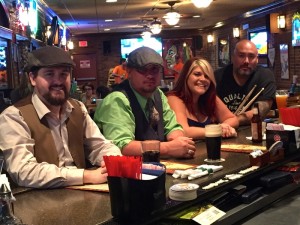 Deriving its name from the iconic Dublin park, St. Stephen's Green brings awareness to Irish music with a repertoire spanning modern Irish rock while still paying tribute to traditional Irish folk and songs of rebellion. As someone enthralled with Irish culture, the band started to bring a fresh perspective to Irish music in the Chicago-land area. By blending a female's voice over the harmony of banjo, mandolin, fiddle, guitar, bass, and drums, St. Stephen's Green does just that.
St. Stephen's Green borrows and modifies songs old and new; some influences include The Dubliners, the Pogues, the Saw Doctors, U2, the Wild Colonial Bhoys, and the High Kings.
St. Stephen's Green performs at Irish Fest on Friday, July 8 at 8pm.
www.ststephensgreenchicago.com