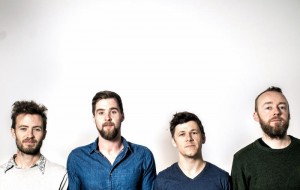 Since 2014, The Young Folk have been filling venues both at home in Ireland and overseas.
While the band has performed widely in Ireland's festivals, venues and showcases, they are fully committed to expanding their fan base overseas and are rapidly becoming national favorites in The Netherlands. They also performed extensively in the UK, France, Germany, Scandinavia, the USA, Canada and Australia.  Along the way, TYF have bagged support slots for Imelda May and Clannad. TYF are also festival favorites including performances at Australia's Port Fairy Folk Festival, Belgium's Dranouter Festival, the Cambridge Folk Festival, Electric Picnic and Cornbury as well as numerous occasions for live TV appearances on Ireland's RTE's Saturday Night Live.
Ireland's President Michael D. Higgins ranks as their most notable fan to date after he organized for them to perform at a private function at his residence.
The Young Folk is Anthony Furey, Paul Butler, Tony McLoughlin and Alex Borwick. The band performs at Irish Fest on Friday, July 7 and Saturday, July 8.
https://www.facebook.com/TheYoungFolkMusic/