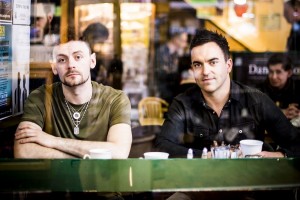 Tupelo is an award-winning alt-folk act hailing from Ireland. Featuring members from different musical backgrounds and an all acoustic line-up, the band got together in 2008 and set about creating a sound which can only be described as unique, a result of the melting pot of influences brought to the table from the individual members.
Over the years, Tupelo have collected an eclectic array of instruments including double bass, acoustic guitar, fiddle, mandolin, harmonic, dobro and several banjos which they incorporate into their music. A hardworking band, Tupelo enjoy the road and have played an impressive number of gigs since the band's formation, appearing at major festivals, playing support to some of music's biggest acts and attracting plenty of fans along the way, which they thrive off.
Tupelo is James Cramer and Kevin Duffy. The band performs at Irish Fest on Saturday, July 8th at 7PM and Sunday, July 9th at 7PM.
https://www.facebook.com/tupelomusic/