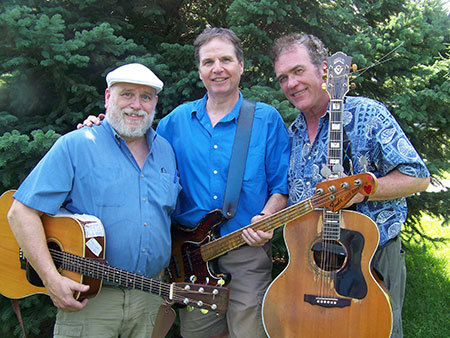 Coming from a River Forest family of six boys, the Dooley Brothers have been singing and playing together all of their lives.
Over the years they have developed a range of incredibly diverse styles of music influenced by Benny Goodman and the Mills Brothers, Elvis Presley, the Beatles, the Coasters, the Kingston Trio, topped off with a wealth of Irish music.
At the beginning of the 90s, the Dooleys released Glad Magic, a collection of original songs, and also a variety of folk and calypso that they were performing in clubs. In the later 90s, brother Bill re-joined the band. They continued performing in concerts and clubs mostly in the Midwest. Their most recent album, Black Sunshine, features a delicious blend of traditional Irish, classic 50s rock, folk and original tunes.
Today the Dooley Brothers are still singing, and working on many new projects. The Dooley Brothers are Bill on guitar and vocals, Mike on bass and vocals and Jim on guitar, banjo and vocals.
The Dooley Brothers are joined by Kathleen Keane and Jimmy Moore.
Keane is a multi-instrumentalist, singer, songwriter and composer. Her virtuosic tin whistle playing earned her appearances in several films, such as Backdraft and The Road to Perdition. Her whistle and fiddle skills were also featured on the Cinderella Man soundtrack. A consummate performer, she has graced stages around the world with Gaelic Storm. She is the host of the IAHC's Thursday Night Irish Music Sessions and is cohost of the IAHC's radio show, The Craic with Cooney and Keane.
Irish born singer, guitar player and songwriter Jimmy Moore performs around the Chicago area with such musicians as Catherine O'Connell, Peter Brady, Paddy Homan and Dennis Cahill.
The Dooley Brothers, with Kathleen Keane and Jimmy Moore perform on Sunday, July 10 at 2pm.
www.facebook.com/dooley.brothers