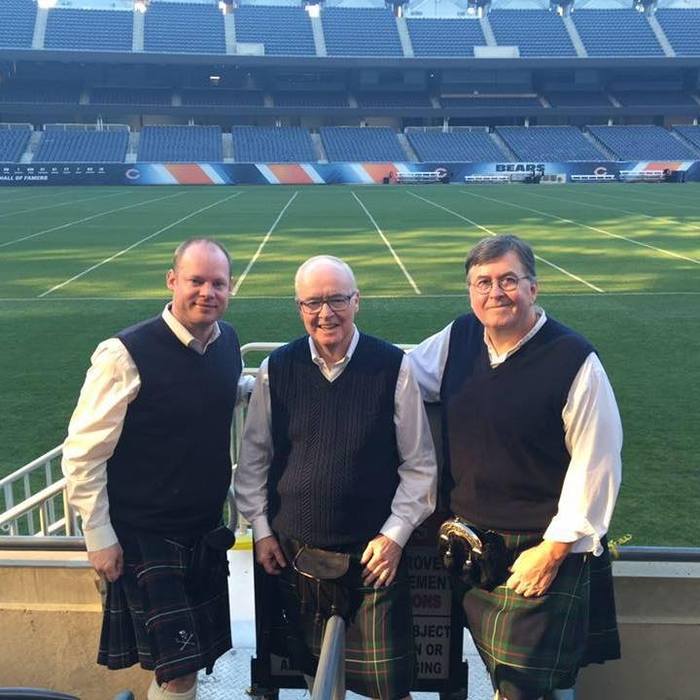 Marty Connolly, Bill Hannigan and Dan McGuire have been known as Three Men in Kilts since 1993, when they decided to combine their musical talents and perform for audiences.
Growing up on the Southside of Chicago, Bill learned to play the Highland Bagpipes, while a member of the Stockyards Kilty Band. The three have been friends since their Little League sandlot days. Both Bill and Dan were members of the Gaelic Fire Brigade Pipe Band, with Bill acting as Pipe Major, until it dissolved. The Band performs traditional Irish ballads, pub and rebel songs, Great Big Sea, Gaelic Storm, Saw Doctors Jimmy Buffett and the Beatles.
Three Men in Kilts has been invited to sing the National Anthem at Sox games for the last 18 years and has performed "live" on The Kevin Matthews' Talkmess, Jonathon Brandmeier's Showgram, WLUP-FM, The Steve Cochran Morning Show, The Huge Show, ESPN Radio-WMVP-AM, with Steve Dahl, WCKG and the Eric and Kathy Morning Show on WTMX-FM, 101.9 and WSCR, The Score and WGN TV
After 21 years, Marty Connolly has chosen to take a "sabbatical" and Bill's son, Brendan Hannigan has joined the band.
Brendan is a gifted singer/songwriter and musician, an alum of Second City and IO and is a contributing member of The Hitmen, an improvisational group based in Chicago.
Three Men in Kilts performs on Sunday, July 10 at Noon.
www.facebook.com/threemeninkilts