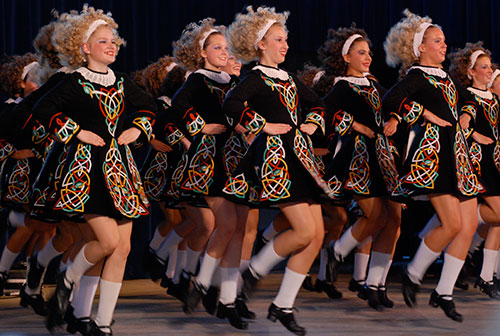 Celebrate all things Irish at the Center's annual St. Patrick's Day celebrations each March at the IAHC. The parties are some of Chicago's largest, and in March, we have as many as 10,000 visitors through our arches on Knox Avenue.
The St. Patrick's Festival is always after the downtown parade on the 2nd Saturday of each month. The live music, dance, food and activities all take place under one roof, so revelers never have to brave the March weather conditions. The large-scale, family-oriented annual event includes traditional and contemporary Irish music, Irish step dance performances, food, children's activities and an Arts and Craft Fair, with vendors selling Irish gifts. Visit the Art Gallery, Library and Museum for programming and exhibits. The 2016 St. Patrick's Festival is Saturday, March 12 from 1pm to midnight.
Come back for more fun for the annual the St. Patrick's Day Celebration on Thursday, March 17, 2016, from noon to 10pm. The day-long celebration in the Fifth Province includes music, dance and face painting for children.
Tickets for both celebrations go on sale on January 5, 2016 and can be purchased by calling the IAHC office at 773-282-7035, ext. 10 or visiting the IAHC Office or Gift Shop or buying on this page after January 5.
Want to volunteer? Send an email to Carmel O'Kane at cokane@irishahc.org