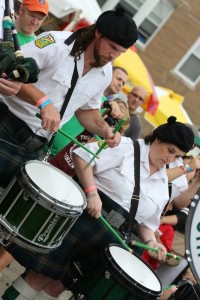 The Shannon Rovers are a pipe bandbased in Chicago, Illinois. The band plays traditional Irish music almost exclusively. Rovers were first organized in 1926 by Tommie Ryan and a group of Irishmen, most of whom emigrated from Ireland in the 1920s, an historical period in Ireland. They arrived in the United States in time to experience the Great Depression, as reflected in the minutes of a meeting held in 1930, which states that "the Shannon Rovers Club was organized for the promotion of Irish music and to help members who are in distress to run dances and social affairs to finance these objectives".
When the Shannon Rovers were first organized, they went by the name of the Shannon Rovers Fife and Corps. In 1926, they first stepped off to lead a great parade at the newly opened on 47th street. For the first six years, their fife and drum music was heard at every Irish gathering in the city. They attracted new members and became one of the most popular marching bands in the Midwest. In 1932, the band switched to, which are referred to in Ireland as the war pipes. Since its founding, the Shannon Rovers have performed in thousands of local, national and international events. One of the Shannon Rovers' traditions has been leading Chicago's St. Patrick's Day Parade. Beginning with the crowning of the St. Patrick's Day Queen in February through the month of March, the Rovers play more than 125 events.
Today, the band is made up of seventy plus pipers, drummers and color guard. In November of 2015, the band played at the funeral and burial of the Irish actress  Fifty members of the band traveled to Washington, D.C. for the burial at Arlington National Cemetery
The Shannon Rovers Irish Pipe Band performs at Irish Fest on Sunday at 8pm on South Lot.