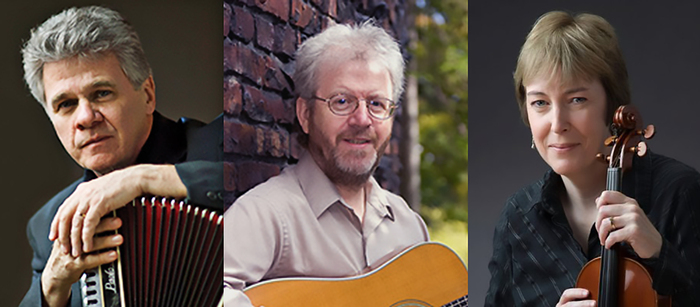 Salon Concerts Chicago presents Trian
April 20, 2017 @ 8:00 pm

-

10:00 pm

|

Free – $20
Salon Concerts Chicago presents Trian, featuring Liz Carroll on fiddle, Billy McComiskey on button accordion and Dáithí Sproule on guitar and vocals on Thursday, April 20 at 8pm in the Fifth Province.
Three of Celtic music's most acclaimed and award-winning musicians; Carroll, McComiskey and Sproule perform as Trian, a band originally formed in the 1980s. While tied to traditional music, the trio uses exquisite musicianship to take the traditions a step further.
Carroll's playful and expressive fiddling, along with her massive original repertoire, have made her a worldwide legend. She is a 1994 recipient of this country's highest honor in folk and traditional arts; the National Heritage Fellowship.
Also a National Heritage Fellowship recipient (2016), McComiskey is revered as player and composer and is credited with raising the profile and stature of the button accordion.
Sproule is one of Irish music's most respected guitar accompanists and singers in English and Irish, and one of the first guitarists to develop DADGAD tuning for Irish music.
Trian, featuring Liz Carroll, Billy McComiskey and Dáithí Sproule is Thursday, April 20 at 8pm in the Fifth Province. The Academy of Irish Music Performing Group will be the opening act.
Tickets are $20 for adults and children 18 and under are free and can be purchased by clicking above, calling 773-282-7035, ext. 10 or at the door.
Tickets can be purchased at the door once online sales have ended.
Tickets are not available as this event has passed.