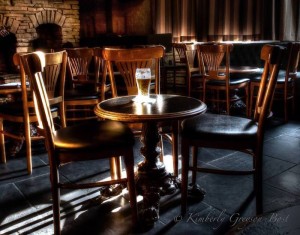 Sample our new special summer menu, featuring Kerrygold sliders, grilled steak sandwich with blue cheese horseradish sauce, beer battered cod sandwich, grilled steak Caesar, smoky BBQ burger, the IAHC BLT and our Grown Up Guinness Float.
The Fifth Province is designed as a traditional Irish pub. In Ireland, the pubs were a community gathering place for news and sports, hosting music and launching new talent. The Fifth Province was built by the founding tradesmen of the Center; stone masons, carpenters, woodworkers, tile-masters, and pipefitters. The handmade service bar keeps a piece of the 1927 Mayfair school still in use. The former chalkboards were cut down to become the counter top for the bar. The handset stone hearth with cast iron cooking arm and pots evokes earlier days of simple home and countryside; families gathered to the center of the home for warmth and a meal.
Today the Fifth Province continues the tradition of gatherings with local musicians every weekend, a pub menu of Irish fare and a variety of drinks, all served in our comfortable home. We have two parking lots with ample free parking. The building is wheelchair accessible.
Fifth Province Hours:
Tuesdays: 6pm-10pm
Thursdays: 6pm-10pm, Thursday Night Irish Music Sessions
Friday: 6pm-1am Live music at 8pm
Saturday 6pm-1am Live music at 8pm
Be a part of our Members' Culture:
All members receive 10% off all meals in the Fifth Province

For the entertainment schedule, 

CLICK HERE