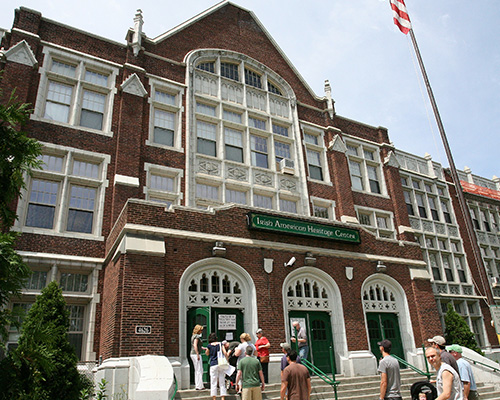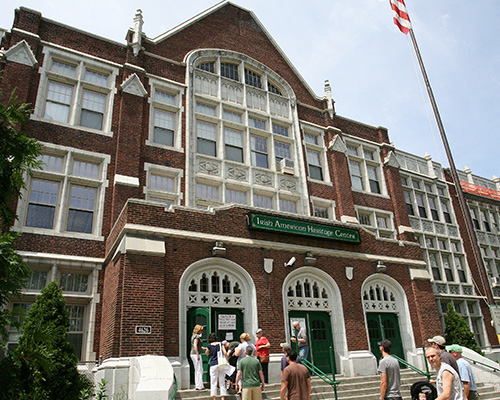 About the Irish American Heritage Center
The Irish American Heritage Center's (IAHC) mission is to cultivate the cultural bonds of the Irish and Irish Americans to Ireland through gatherings and festivals and by promoting cultural programming such as music and theater, literature, and language.
Visiting the Irish American Heritage Center
We offer group tours of our historic building throughout the year. We also provide several public and private classes and events.
Our building makes a wonderful venue for weddings, meetings, reunions, film and television recording, and more. To find out more about our rental options and packages, please click here.
Hours & Directions
We are located in a renovated, turn-of-the-20th century building that sprawls over an entire city block at 4626 North Knox Avenue in Chicago.
Our office hours are
Monday through Friday, 9:00 am to 5:00 pm
Saturday, 9:00am to 2:00pm
Click here for the Gift Shop hours
Click here for the Fifth Province Pub hours
Get Involved
We are always looking for volunteers for our office, activities, and events. Click here to contact us about volunteer opportunities.
Our Board
Tom Chambers, President
Eileen Ryan, Vice President
Anne Marie Herlehy, Secretary
Martin McDonagh, Treasurer
Caroline Hennessey
Dominick Mulcrone
Meaghan McDonagh
Dominick Owens
Michael Galvin
Sean McDonough
Jeanne Schultz Angel
Mike Lepore
Jacob Rodriguez
Thomas Herion
Moira Cahill
Ki Wolf Smith